New York: Moments in Time Exhibition by Janice Wood
Gallery Forty-One presents the September Exhibition Room Show featuring Janice Wood. Janice is currently the President of the Board of Directors of the Fine Art Society of the Southern Tier, (Inc.) (FASST) whose primary mission is to promote art education.

This show has personal meaning to Janice and represents both traditional and non-traditional methods of creation and includes various media. The show is based on her many experiences growing up in New York State. The range of work presents a families' immigration to a new land expressing the joy and happiness seeing the Statue of Liberty then on to settling in areas around Woodstock. Many pieces depict growing up in New York State and finally the pieces in tribute to those who lost their lives on February 26, 1993 and September 11, 2001. This 4 – panel assemblage of oil, acrylic, clay and mixed media is titled, "Thirteen Points". The Thirteen Points are represented in each of the 4 pieces and these points are used to show the positive progression and healing progress from the onset of a major situation and a period of uncertainty to bring the situation into a period of resolve. The four panels are subtitled, "Uncertainty", "Hope", "Community" and "Resolve".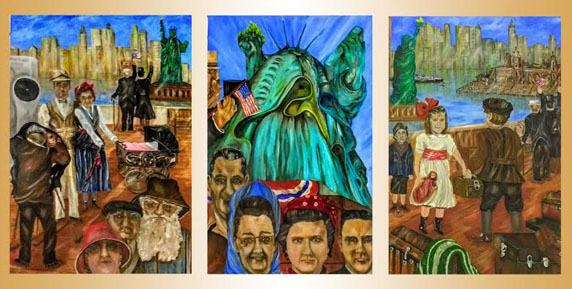 Also note the upcoming show at Gallery 41:

October - "Dem Bones!" by Mary Kaye Sickles. When witches go riding and skeletons are seen, the moon laughs and whispers, tis near Halloween. A fitting show for the haunting month of October.
Opening reception Friday, October 7th, 6pm - 8pm. Show runs October 6th - November 3rd.